Setting up a business at 20 years old – by Joe Taylor
Joe, who turned 20 a few weeks ago, just celebrated the one-year anniversary of his business EJ Events. He and his business partner and co-founder Elliott have ambitious events coming up across the UK for the new year and plan to work on their company's growth. We discussed the challenges they encountered since their start and what Joe's advice would be on setting up a business in the UK.
1. What would you say to anyone who would like to setup their own business?
Don't wait to be perfect.
The truth is you will probably never be at first and that's why you must try not to be a perfectionist. It's very hard since you want everything to be as good as possible from the start, but you shouldn't fear not having the finished article, because it will change with time. Start now, and perfect it later.
Get your name out there.
You must get people to know you, especially with our type of company which is a service to customer. You also need to make sure you are getting to the right target, to people that will be able to help you along the way since you can't do it all on your own. Getting brand awareness is very important when you are setting up your business, and it's good to work on it as soon as you can.
Do not listen to others.
Even your circle of friends or family, which might sound cheesy but ends up being very relevant. If you are passionate and you have the mindset to be successful, then you will.
We were not sure about how the steps would work out for EJ Events, but we made it through, because we believed in ourselves when people around us didn't always. If you believe, anything is possible.
2. Which were the main difficulties that you encountered?
The main obstacle was that we started from absolutely nothing. The only thing we had to start off was 100 pounds, and we tried to grow from that, which was obviously an enormous challenge since it's hard to grow in marketing if you do not have the fund for it. And of course, you want to spend money into it, because you know how marketing is important for your business, but if you do it, it just brings you to another level of issues that is not reasonable.
A game changing point was that we won the price for Next Generation Awards 2019 by Enterprise Nation halfway through the year, which gave us a grant of £2500 and really helped us throughout the year. It also opened us to new clients and opportunities.
Another difficulty we encountered was knowing the market and getting them to know us. Selling out an event on your own is very hard and you need to spread the message as soon as you can to as many people around. That's how people get to know you and you attract new customers.
Lastly, and a very important point, make sure you are legally covered. It's so easy not getting paid at the right time and needing to fight for it. It's not fun, and it takes a lot of time that is not expected at first. Even though the clients can pay in a 60-day notice, be legally covered for eventual problems.
3. What would be your main advice to people who would like to set up their business in the UK?
I would say the most important step before setting up your business is self-education. It is something that takes a lot of time but is extremely important, and I learned so much about it.
The main goal is to learn from yourself, and there are so many resources that can help you expand your knowledge on whatever subject you want and become an expert in the matter. You can do your research on your own, invest in seminars, listen to podcasts, or buy books (my personal favourite is "Rich Dad Poor Dad" by Robert KIYOSAKI).
You should really see self-education as an investment and not a cost because you will learn from all of it and won't regret it, since you will put everything into practice further on your experience. It will also help you believe in what you do and achieve your goals.
But once again, my biggest advice is not to forget to work on your mindset. If you believe you can do something, you will train your mind to think that way and there is a larger chance you will succeed.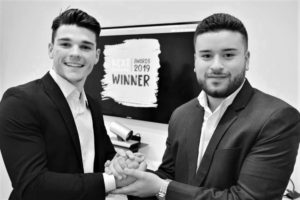 Joe Taylor (right) is one of the co-founders of EJ Events, an event planning company. Along with his business partner Elliott Rayne, they grew their business in a year and were crowned the Next Generation Entrepreneur winners 2019. Joe worked in events and hospitality industry for over 5 years and is now planning events across the UK at only 20 years old.
You can follow them on  their websites www.ejeventsuk.co.uk and www.elliottrayne.co.uk , on Instagram @ejeventsuk and Twitter @events_ej.
Back to News