Advenia at International Drink Expo at ExCel London
On the 19th and 20th of November 2019, the International Drink Expo took place at ExCel London (Royal Victoria Bridge).
The team Advenia visited its tradeshow of the month in order to see what the new drinks from all around the world looked like, and talk to different brands for an afternoon.
The International Drink Expo (IDE) is an event dedicated to maximising your drinks sales in the UK, and seeing what the new products from the market are. It takes place every year for two days. Tune in next year on the 8th and 9th of September 2020 if you want to exhibit your newest products, or if you are just curious. Tickets are already available.
Thank you to all the participants from all over the world for your lovely welcome!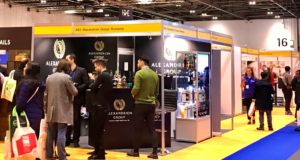 Back to News